New eSIM Platform for MVNO/A/E

JSC Ingenium reinforces its offer for MVNO/A/E and launches its new secure eSIM Platform ready to deploy on any operator and technology.
JSC Ingenium has selected Valid's eReach subscription management services for the rollout of its eSIM solution.
The eSIM Platform showcased by JSC Ingenium allows operators to offer their subscribers a complete and secure solution that is quick and easy to integrate with their customers' business systems. It has been designed to make the service set-up as easy as possible for the operator, and also to improve subscribers' digital experience.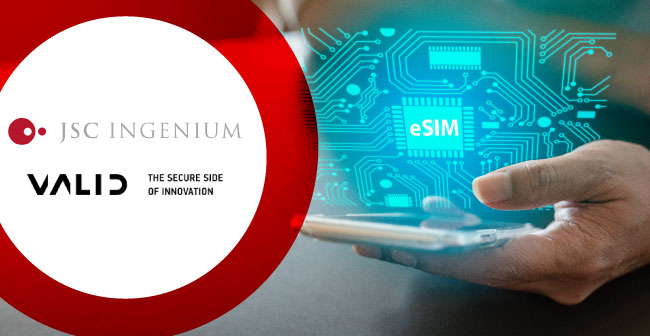 Valid's eReach subscription management services allow JSC Ingenium to manage the creation, storage, personalization and download of MVNO customer profiles on connected devices. Valid's SM-DP+ platform aims to offer MNOs and MVNOs an interoperable and efficient solution for digitally onboarding their end-user customers as well as their automated devices equipped with eSIMs, while adapting to the constraints of their business model during the eSIM ramp-up phase.
The new eSIM solution allows the physical SIM and the eSIM to coexist in a transparent and simultaneous way with a similar provisioning and control process. It also has the capacity to operate on 2G, 3G, 4G, and of course 5G networks, as well as in any environment, regardless of whether it is operated with
JSC Ingenium
technology.
Another major advantage of the eSIM solution is allowing aggregators and enablers to offer the eSIM service to their brands completely independently.

"Our goal is to always offer our clients the most complete service and the latest technology at all times", said Sergio Cano, CEO of JSC Ingenium. "Although eSIM technology is still very young, we want to be ready to offer a service with guarantees, fully integrated with our BSS system" Sergio added. "Choosing to work with Valid is key for us. We have been working with them for more than 10 years, since we launched our MVNA Platform on the Spanish market and, on this
occasion, it was the perfect fit".
"Being chosen by JSC Ingenium, a long term business partner, as their eSIM subscription management service provider shows how important is nowadays to offer effortless connectivity and remote subscription management to enhance the user experience". said Pierre Lassus, Global Director of Software and Services at Valid. "This partnership is a perfect illustration of Valid's eSIM strategy, which aims to support business development at MNOs and MVNOs, OEMs, and M2M device manufacturers during their eSIM ramp-up process, while providing fully interoperable and future-proof services".
Valid (B³: VLID3 – ON) provides tailored solutions that integrate emerging technologies to enable secure, trusted experiences. From Data, Payments, Identity, and Mobile services to IoT, Track and Trace, Digital Certification, and Agritech, Valid offers a wide portfolio of services and solutions that accelerate the digital transformation of our clients' businesses. With over 60 years' experience and more than 6,000 employees in 16 countries, Valid is the largest issuer of identification documents in Brazil, is among the top 5 producers of SIM cards and is the world's largest manufacturer of bank cards.