TaaS -Telco as a service-
The new smart help system for operators
It guides customer care agents when opening a task or notifying an incident in a fast, structured and integral way
It centralises all requests and service incidents.
It compiles all the relevant data in a structured way and with the required level of detail.
It completes the information using traces, diagnosis and system checks.
It speeds up incident detection, diagnosis and resolution.
It optimises resolution time, avoiding downtimes: blind tests, requesting more information from customers…
It optimises timely and appropriate resolution of incidents, improving customer satisfaction.
It allows agents to be independent in incident diagnosis and resolution.
It optimises the work of the teams involved.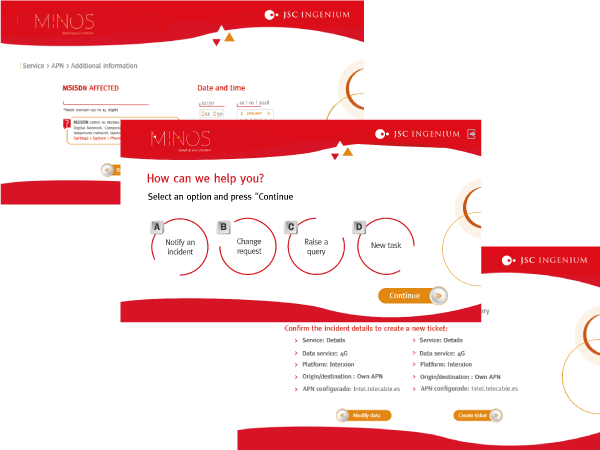 «Its smart system allows customer care agents to open a ticket (query, incident, request…) in a quick, guided and comprehensive way»
It makes it possible to open a ticket (query, incident, request…) in a quick, guided and comprehensive way
It performs prior diagnosis of the issue during the request opening itself
It offers customised flows according to the deployed services
It is integrated with the ticketing platform; it makes it possible to follow-up on the status of an incident
It is integrated with smart monitoring and diagnosis tools (Pharos and Brain)
It forwards the incident to the specialised team (Core/BSS/Operations)
It includes a wide range of requests: Incident opening, Voucher configuration, VPN activation, SIM orders, Report configuration…
It automatically collects all the possible information (traces, cdrs…) of the incident for subsequent analysis.
Its auto-diagnosis capacity makes it possible to detect, verify and identify an incident in real time.
It is able to categorise incident criticality, prioritising the most urgent cases.
It is able to detect in situ whether it is a duplicated ticket or a known issue, updating the information with the support teams, in order to make the most of resources.
"It offers 24/7 technical support and is operated in each country by a specialised and local team of experts with a deep knowledge of the customer's technology and business. This allows them to be aware at all times about what repercussions an incident may have on a certain service or on the business itself."
The smart advanced support system
Brain compiles data from the different nodes (HLR, MSC, STP, MGW…) that appear during the provision of a mobile service – call, SMS, data, register… – in real time and unifies and indexes that information. In just a few seconds, users can visualise all traces related to the service that they are searching, regardless of the protocol or complexity. Brain presents the traces visually as a flow diagram, which considerably simplifies its analysis. The system enables interactive analysis by filtering and analysing in detail the information collected.
JSC Ingenium's revolutionary new system has been designed to speed up and simplify MVNOs' support tasks to the maximum when identifying the root cause of incidents
Have a single search point where all platform traces, from any protocol or data source, can be found centrally.
Visualise all the traces related to the service that users are searching, regardless of the protocol or complexity.
Filter information using specific searches, limited by any of the fields indexed from the frames.
Remove and export traces to simplify information sharing and incident escalation.
Compare service flows interactively to simplify the differential diagnosis.
"In a matter of seconds, Brain makes it possible to have all subscribers' service information available for a deep interactive analysis"
Connection of different traces and protocols
As traces of a single data deposit are unified, Brain can apply specialised algorithms to determine the connection between them. These connections are indexed, so that retrieving information from a given service is virtually immediate. It has been proven that it might take more than an hour to connect traces of a complex service by logging SIP, Camel, MAP and Diameter. However, thanks to Brain you can receive all the essential information in seconds.
Ease of analysis by support teams
The system lets you know instantly whether a certain service has been processed by the network or not, avoiding downtime for the support team. The information is presented as a flow diagram, which means that you can see straight away all the frames, gaps or time delays between them. Brain also offers the option to compare frames automatically, showing the differences using a colour code.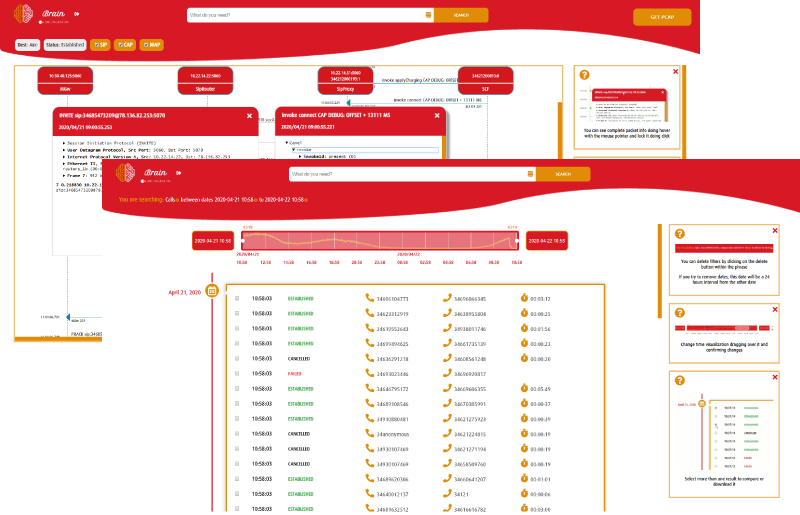 It makes it possible to complete frame information, by offering data that do not appear in the service traces themselves, but which are obtained by analysing them. For example, the final result of a call, the duration, the quality of an Internet connection, and so on.
Increased information retention
Brain uses very efficient storage mechanisms that allow subscribers' information to be stored for a long time. Brain can use storage mechanisms in the cloud, which allows for the retention of as much information as is necessary.
Download of previously-filtered pcap and log files in seconds
Since the frames are indexed, it is not necessary to analyse the ones included in the pcap file; Brain does it automatically and instantly. In addition, following this philosophy, the system allows replicating it with text files of logs of apps, CDR, EDR, and the like.
Core monitoring and analysis in real time
JSC Ingenium's revolutionary new monitoring system displays all the elements in each client's service, and identifies any type of incident in real time
Unified monitoring of all elements in the service: network, systems, communications, business….
Complete forensic analysis to identify possible causes and decide on corrective measures.
Intelligent system for analysing and classifying technical and business alarms.
Different dashboards depending on the management support level.
Ability to anticipate degradation of the service.
Multi source trend analysis of the evolution of all the available sources (including automatic events and user annotations), enriching the information.
Integration of user annotations (information enrichment).
Multi source event correlation: First cause analysis.
Proactivity, events and sheduled tasks management.
Ticketing tool integration.
Consumption control.
Reliability engineering.
IA – Automatic anomaly detection.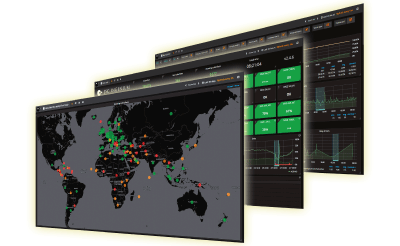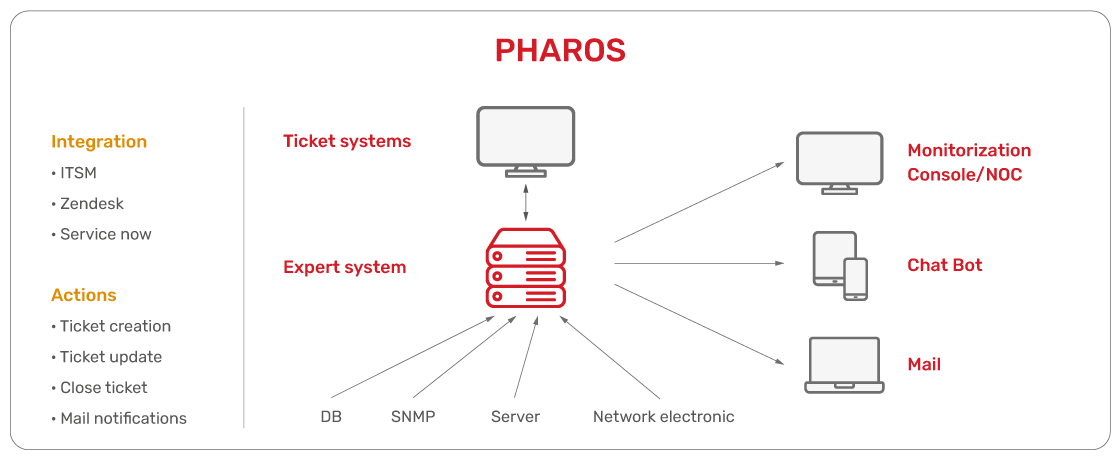 «Pharos enables comparison of the evolution of all the available sources, enriching the information»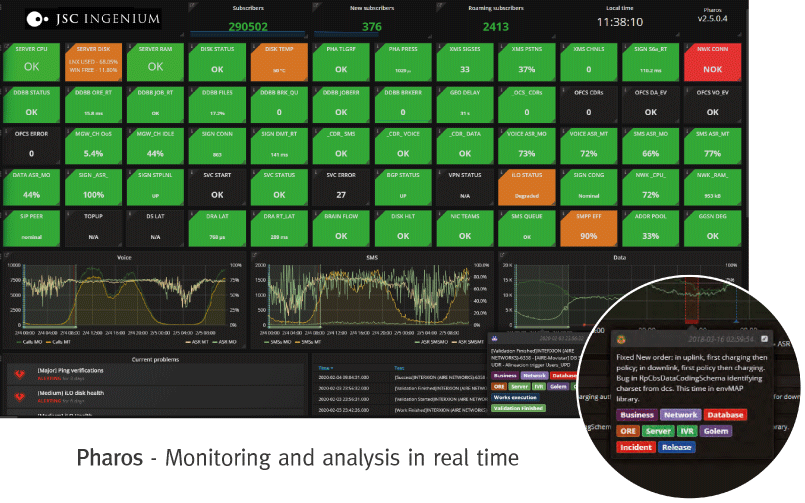 Enables any incident or anomaly to be identified and monitored immediately.
Alarms classified by severity.
Alarms provide complete information about the problem identified and recommended actions and information links.
Incident triage.
Enables integration of various ticketing tools.
Classification as Technical and Business Alarms
Business Alarms Management
Business performance monitoring. Product operation monitoring.
Consumption control.
Product renewal.
Rated traffic.
Customer expenditure.
Service statistics.
…
Unexpected service behavior.
Effectivity loss.
…
Infrastructure Alarm Management
Physical node failure.
Network failure.
External link failure.
…