TaaS -Telco as a service-
Converged Rating and Policy Engine (Firewatch)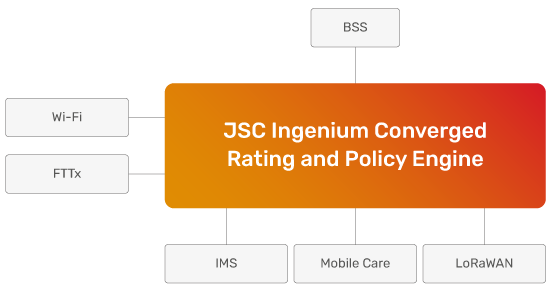 JSC Ingenium Converged Rating and Policy Engine meet the specific need of any Communication service provider from tier-1 operators to an enhanced virtual service provider model. It helps deliver real-time charging and policy application quickly, cost-effectively while increasing profitability and improving the customer experience.
JSC Ingenium Converged Rating and Policy Engine is a modular system including multi-network call and session control, convergent rating, and charging functionalities and is built to enable very complex charging rules at a very high transaction rate.
Advantages of JSC Ingenium Converged Rating and Policy Engine
Provides convergent charging independent of payment methods, whether it is prepaid, postpaid, or hybrid.
Shorter Time to Market since the creation of comprehensive policy plans would take just a few hours.
Covers all subscriptions, all service, tariff and policy options, and balances schemes.
Include innovative offering like bonuses shared between subscriptions, advanced hierarchical bundles, quota rollover, Turbo boosts, unlimited service packages immediate payment of content, and so on.
Main Functionalities and Characteristics
Enables pricing of all services and functionalities: voice, voice with guaranteed quality, e-mail, IP messaging, etc.
Ensures that no service is provided without prior pricing and checks that the subscriber has sufficient balance.
Guarantees use of services contracted by customers (QoS, priorities, bandwidth, etc.) according to the specified conditions (fees, times, etc.).
Prevents overuse of services by subscribers to allow fair use of the network.
Prevents network overload.
Integrated Voucher Manager and Top-up Gateway.
Generation of CDRs with complete business information.
Standards supported:

5G Nchf.
Diameter Gx, Gy, Gz.
Diameter Sh.
Diameter Ro.
Radius.
TAP 3.
ASN.1 CDR decoding engine.
Text CDR decoding engine.