Wireless Logic: optimizing the Internet of Things business

Wireless Logic chooses JSC Ingenium to deploy its new M2M/IoT platform that will allow it to manage IMSI agreements reached with leading international roaming operators.
These agreements allow Wireless Logic to offer its customers the best value-for-money M2M/IoT service on the market.
The British operator
Wireless Logic
, a pioneer in IoT communications since 2000,
currently operates more than 6 million M2M connections
. Headquartered in South-East England with offices spread across Europe and China, Wireless Logic works to build the first mobile network designed in the IoT.
In 2020, Wireless Logic selected JSC Ingenium technology to deploy its own M2M/IoT platform for managing service operations in all countries where it currently operates -United Kingdom, France, Germany, Spain, Denmark, Holland, Austria, the USA and China- as well as new markets in the future.
A key feature of Wireless Logic's service is its ability to bring together multiple IMSIs both of its own and various MNO partners enabling it to dynamically select the best available network at all time and thus manage communications in each location globally. This selection is based on price and quality criteria, offering end customers the best possible communication anywhere in the world.
JSC Ingenium's platform provides a full range of capabilities -multi-IMSI, pattern-based location management, roaming user profiles, input interface-based flow discrimination- enabling complete control over roaming services. The system allows users to create, manage and assign profiles to subscribers that will determine the services they will receive on the different authorized networks, depending on the roaming partner managing connectivity to these networks. In this way, a simple business order can trigger the authorization or non-authorization of the use of a certain coverage footprint, or a certain roaming partner, or even specific network services for given networks controlled by certain partners.
The new Platform deployed is a
Full Core OSS/BSS solution
, developed entirely in-house by
JSC Ingenium
taking into account all the roaming management capabilities of the network elements. One clear example are rate services, capable of determining the appropriate rate for a given service based on specific criteria, namely location, subscriber profile and roaming partner through which the service is provided.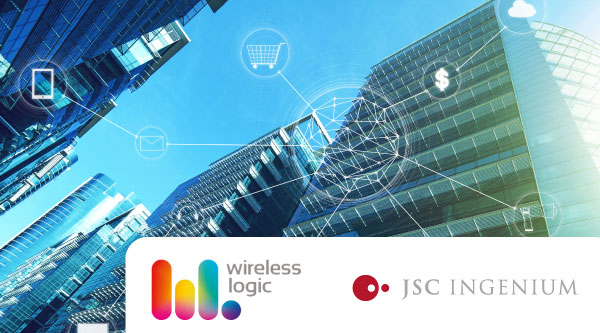 The entire platform has been designed to, on the one hand, facilitate the deployment and centralized operation of the service and, on the other, enable quick and cost-effective management of the different M2M communication needs of both companies and device manufacturers and integrators, offering a high level of customization based on the specific needs of each vertical. The deployed solution has the following nodes/functions: STP, DSC, HLR/HSS, SMS-C (e.g. IP-SM-GW), CAMEL SCF, G-MSC, USSD-GW, P-GW, Proxy, OCS, PCRF, and OTA platform, together with a provisioning gateway.
Although VoLTE technology is not included in the initial rollout, JSC Ingenium has offered this advantage to Wireless Logic and an agreement has been reached to add this later, as appropriate.
About Wireless Logic – IoT connectivity for any device, anywhere
A new thing, device or asset is connected to Wireless Logic's cellular platform every 18 seconds of every day. And today, Wireless Logic Group has over 6 million IoT SIM subscriptions active in 165 countries, with collaborative partnerships that provide reach into more than 750 global networks.
The group is entirely customer and market-driven, meeting customers where they are to help them innovate by providing expert service and the most flexible, resilient and secure connectivity solutions in the market.
Wireless Logic's purpose-built IoT connectivity platforms connect (globally and locally) across multiple mobile networks and technologies to give customers a single management window for their assets. It provides the ultimate connectivity, control and security.
Wireless Logic Group is backed by Montagu Private Equity, one of the world's leading private equity-backed investors, giving Wireless Logic Group unrivalled financial strength.