TaaS -Telco as a service-
JSC Ingenium BSS Solution
Communication service providers as small as an MVNO or a Tier-1 Operator are now battling the increased complexity of managing a mixture of products and services, multiple sales, and payment channels in a fragile market with new business and partnership models popping up.
JSC Ingenium BSS is a complete, best-of-breed integrated solution that provides invaluable competitive advantages to communication service providers to enhance business operation, monetization and help achieve business agility allowing faster time-to-market and shorter time-to-revenue for any new or existing products and services, with a strong focus on customer intimacy.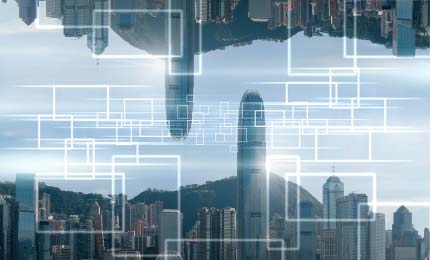 JSC Ingenium BSS solution overcomes the limitations of service design in legacy systems and provides:
Built on a common platform technology with a single and consistent repository of data like Customers and products.
Modular, Scalable, Flexible, and Real-time ecosystem.
The convergence of any Product, service, and technology.
The low total cost of ownership resulting from an efficient deployment and pre-integrated system and workflows, as well as robust in-house R&D and support.
Extremely scalable and flexible
JSC Ingenium BSS supports unlimited scaling fitting any size of operation and Communication service provider. The solution is also extremely flexible at the core, allowing for the highest product, workflow, and business rule flexibility concerning definition, configuration, speed of rollout, and customization.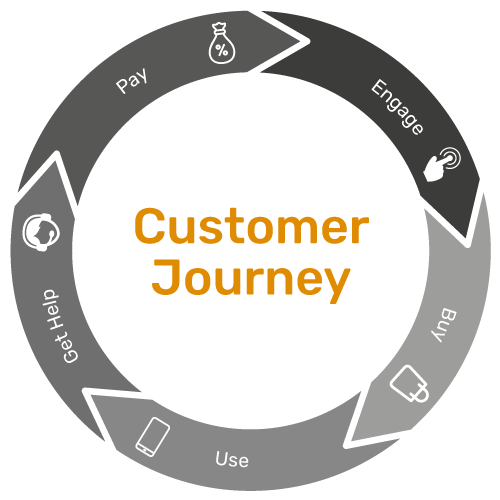 JSC Ingenium provides the most comprehensive portfolio of operational and business solutions for every stage of the customer journey, putting the Communication service provider in control of customer experience to facilitate a more substantial customer-centric company, reduce churn and improve overall operational efficiency.
BSS Solution of JSC Ingenium is a multi-tenant solution that would allow Communication service providers to host multiple brands, partners, wholesalers, MVNOs, as well as connecting to numerous networks of various technology or countries, with maximum isolation.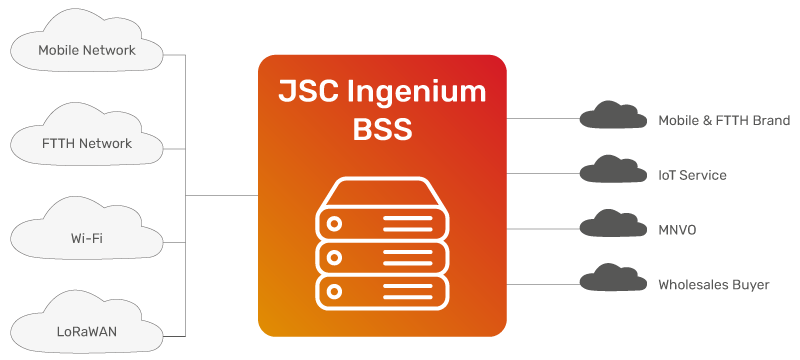 JSC Ingenium BSS Solution is open and extremely integration, and partner friendly. With fully documented API interfaces with everything needed to manage the customer and business, a Communication service provider can easily integrate any 3rd party or partner to add functionality, product, or services, to the market, whether directly or through the B2B2X model.

JSC Ingenium BSS Portfolio
JSC Ingenium BSS is a comprehensive solution with a vast combination of features out of the box for any communication and digital services that any Communication Service Provider would want to deliver to the market.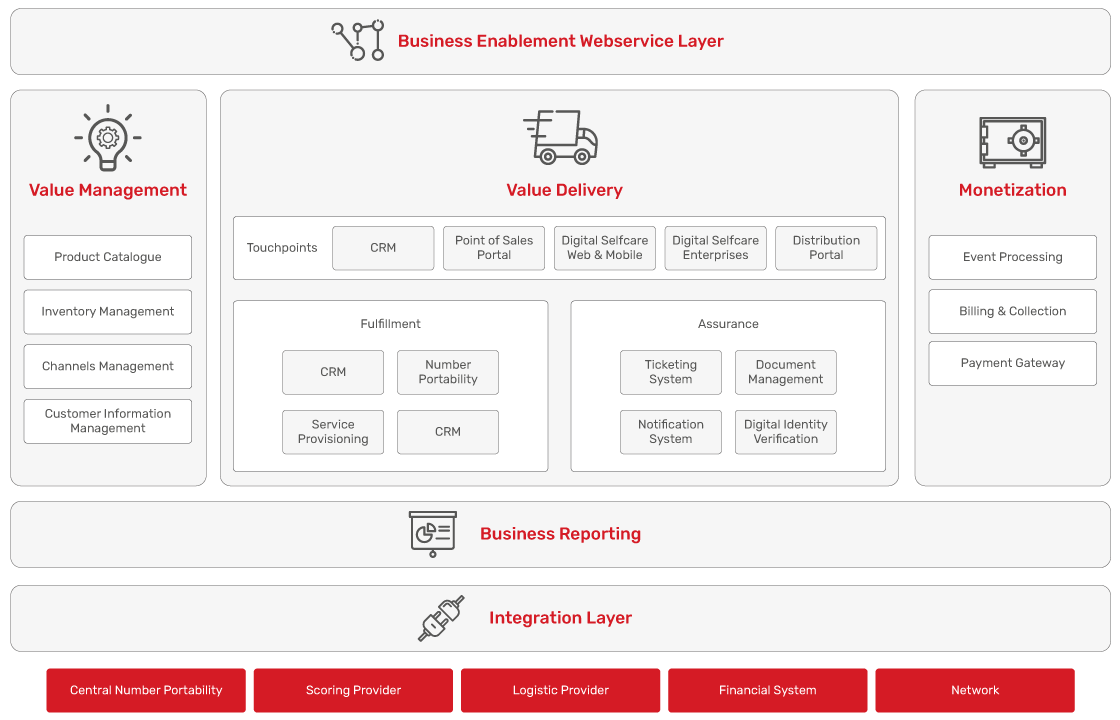 Value Proposition Management
Product Modules under value proposition management portfolio of JSC Ingenium BSS help communication service providers to design and manage their marketing mix:
Manage products and services offering along with specifications, business rules, and pricing through JSC Ingenium Product Catalog. A flexible and straightforward Product lifecycle management solution helps you maintain information about all the products such as devices, services, and packages, including discounts and offers, product versions, the channels in which you want to distribute the offering.
JSC Ingenium Product Catalog improves product management and significantly reduces the time to market, helping your marketing & sales experts to define a commercial product with multiple reusable functionalities and components and defining relationships between products.
JSC Ingenium Inventory management is a flexible solution that facilitates storing of product and stock information (Numbering, SIM, Device,…) as well as end-to-end management of their lifecycles.
Inventory management provides better control over resources that Communication Service Providers offer to the market by delivering functionalities like creating different pools for resources for individual product offerings and creating a hierarchy of sub-inventories for each sales point.
JSC Ingenium also enables the integration of Inventory management with external processes.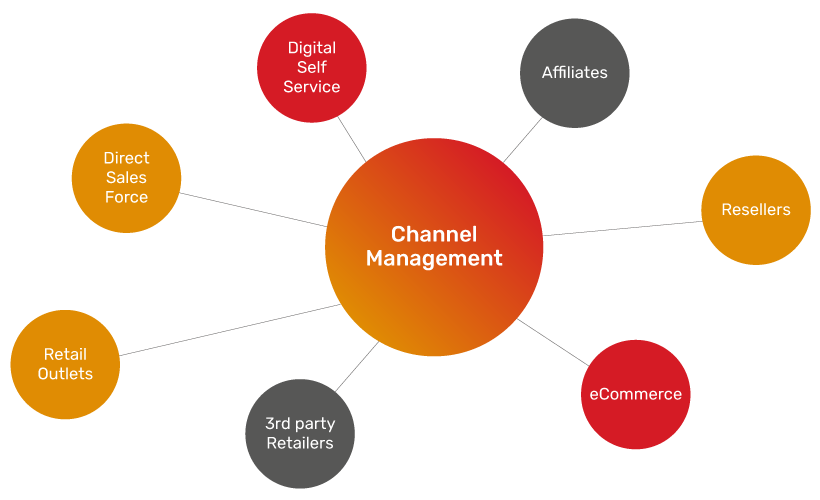 BSS Workflow Management offers a user-friendly graphical user interface to create rules and schedule, run, and apply them. Various business processes can be managed using Workflow Management. And a single process can consist of multiple tasks and business rules.
JSC Ingenium Sales Channel Management enables Communication service providers with all the necessary functionalities to create a network of multi-level hierarchical Salespoints, each supporting different geographical regions or customer segments, product portfolio, and business model.
Customer Information Management
Customer Information Management is the core piece of the JSC Ingenium BSS that unifies and enrich all customer data necessary to manage the operation and service efficiently.
It facilitates creating new and managing existing subscribers and a hierarchy of accounts and subscriptions and is used across all touchpoints.
The Value delivery portfolio provides all the applications a Communication service provider needs to deliver and reinforce the value proposition to the target market.
JSC Ingenium CRM helps communication service providers get a full 360° view of the customers, subscription accounts, and leads, delivering the agility they need in various customer life cycles and relationship management stages.
CRM delivers superior customer service and provides rapid responses to customers' inquiries and problems.
Quickly introduce Customer verification process as well as manage the interactions with customers from acquisition to order capture, customer service, trouble ticketing, and Billing. And build customer insight with all incorporated information inside the platform.
Embrace the digital age customers by providing self-service via web and mobile app to improve customer experience and allow the immediate purchase, usage, and transparent access to all related customer information and customer support service.
Lower the cost to serve while empowering your customers to manage their profiles, top-up, package purchases (even directly through internet payment GW), electronic bills payment, and open tickets directly through JSC Ingenium Digital Self-Care.
JSC Ingenium Digital Self-Care can be easily configured to match the brand identity of the CSP.
JSC Ingenium BSS platform provides two types of Self-care portal:
Large Corporate and Customer Selfcare
Generic Customer Selfcare
The Point of sales application is a light-weight portal with all the necessary capabilities to respond to the most common customer request at your sales point. The portal provides an authorized retailer the ability to manage customer information, account, and sales activities effectively.
The Point of sales portal supports both sell-side and buy-side flows, where the retailer requires support for distribution of goods (SIM, Device, …) and debit management from centralizing logistic and debit programs from the Communication service provider.
With the JSC Ingenium Distribution portal, automate the logistics and distribution of products in your sales network and comprehensively manage the purchasing, warehousing, and logistics of goods to retailers.
BSS Order Management module enables communication service providers to capture, create, validate and manage orders across the entire order life cycle. As a result, it provides your business with a single, integrated system that ensures that orders are complete, valid, and accurately delivered to the end-user.
It is designed to reduce the operating cost by streamlining the order fulfillment process and minimizing manual intervention.
Number portability administration varies from a country to another. However, JSC Ingeniums' BSS solution enables communication service providers to fulfill the end-to-end port-in and port-out process by adopting the specific regulatory environment business rules and the custom integration needed with central portability organization while minimizing the manual intervention.
JSC Ingenium Real-time campaign management boosts Communication Service Providers' marketing agility with an intuitive graphical user interface that would allow the design and launch of targeted campaigns when the business intended to reach each individual end-user.
Service Provisioning of JSC Ingenium enables automatic control over services provisioned to subscriptions. One of the Service Provisioning characteristics is concurrent handling of multiple instances of service types, which facilitates control over services to be activated or inactivated by a set of requests addressed to various equipment like core network elements, 3rd party network elements, and Number Portability.
JSC Ingenium Document Management module is used to collect, store, track and manage the lifecycle of necessary documents like Identity, contractual agreements, invoices.
With Document Management is an easy-to-use solution that is already integrated into the CRM, a CSP can increase the efficiency and the control of the flow of documents as well as removing the need for paper documents.
Integration of Document Management into the BSS helps you bind the subscription accounts' lifecycle to the lifecycle of the document or vice versa.
Digital Identity Verification
In order to become truly digital in today's competitive market, digital identity verification is the core element to engage customers and empower them in managing their services.
JSC Ingenium Digital Identity Verification opens up access to an end-to-end digital journey by providing a secure multi-channel assisted and self-enabled onboarding and identity authentication and authorization.
The solution includes both biometric and document verification.
The ticketing system handles the processes of dealing with customers' problems in an organized, focused, efficient, and effective fashion to improve customer retention and the CSP's brand image.
The ticketing system allows for the collection, storing of trouble tickets from various touchpoints, and facilitates operation processes until resolving on different levels.
The notification system is another product in the JSC Ingenium BSS solution that boosts marketing communication and improves transparency in the end-user experience.
A communication service provider can enable notifications through email, SMS, or even USSD channels to inform the end-user of the events in their subscription lifecycles.
Consider JSC Ingenium Business Support System if you want

Efficiency
Optimized TCO, Fast time to market, flexibility, and rapid expansion.

Flexible economic models
JSC Ingenium simple yet holistic economic models are designed in various to support any business models.

Control
Gain full control over client experience, service evolution, and operation management.

Various deployment
Start small in the cloud to minimize cost and risk or going for full hardware performance and high-security level of on-premises deployment; JSC supports a full spectrum of options.
A robust set of applications gives CSP's business the ultimate support for complex product and service billing and money collection.
Billing and Collection System
The Billing and Collection system is designed to automate communication service providers' operations irrespective of the network operation or service. The Billing & Collection can be flexibly configured, integrated with other services or applications to manage revenue and debt collection effectively.
The Billing and Collection is a portfolio of various product which helps CSPs to manage different Revenue and Business scenarios:

Bill Management includes performing the bill run by collecting and aggregating charges and generates unformatted bills.
Invoicing allows for generated bills can be presented in any form and with any content.
The debt management module delivers the function of overdue account monitoring and dunning.
Audit delivers a collection of processes to protect the business from fraud and revenue leakage.
Commission Management is designed to calculate the commission logic of business agreements.
Wholesales billing facilitated all CSP's business needs in tapping into Wholesales business agreements.
The payment gateway functionality of JSC Ingenium BSS is intended to provide acceptance of payments coming from various sources in various external service systems (billing systems, prepaid platforms). Payments can be accepted in multiple ways, e.g., electronic payment, direct debit, …
Interaction with external payment systems is carried out through a standard API based interface.
Event Processing and Mediation
The Event Processing and Mediation application is designed to process usage calls and event data records from network equipment and generate output files in the BSS format to be further processed by BSS Core and Billing applications.
JSC Ingenium BSS is built on the principle of open interfaces and dully documented to enable Communication service providers to the business by allowing easy 3rd party solutions and service integration.
The integrated Business reporting module of JSC Ingenium BSS provided communication service providers with a suite of reports and dashboards that monitors the service's busines and operational area.