Roaming services for subscribers going overseas and enterprise IoT applications
JSC Ingenium offers a unique and innovative suite of roaming services to simplify, expand and enhance the international roaming coverage of MVNOs with best-in-class service quality.
Which are the main advantages for Operators?
Super-fast Time to Market
MVNOs are able to offer their own roaming services system completely integrated with JSC platform and technology in only two months.
Efficient management
The smart system developed by JSC allows to efficiently manage the roaming system. On the one hand optimizing IMSIS use, with the consequent cost savings, and on the other hand offering the best option for each destination.
Competitive offer of roaming services
Closed agreements with some of the main Sponsor Roaming worldwide:
ensuring coverage in more than 200 destinations,
more than 380 agreements with CAMEL service,
more than 280 networks with 4G services,
more than 650 visited networks.
Quickly create a unique roaming offer without complex procedures, commercial and technical agreements
Based on agreements with specialist roaming hubs (Sponsor Roaming).

Use your own IMSI at home and IG choose IMSI_SRn abroad.

Based on the use of a SIM APPLET Multi IMSI designed by JSC Ingenium.
Voice, Data (2G / 3G / 4G), SMS: CAMEL.
Sufficient allocation of specific IMSI blocks.
Service tests performed.
Services are billed online by the MVNO.
Unified service ticket management with JSC platform, with a single support team.
Access to service reports.
Pre-established fraud controls:

no conference calls & no call forwarding while roaming.
configurable maximum periodic consumption (voice consumption limit, cost limit). NRTRDE files are managed.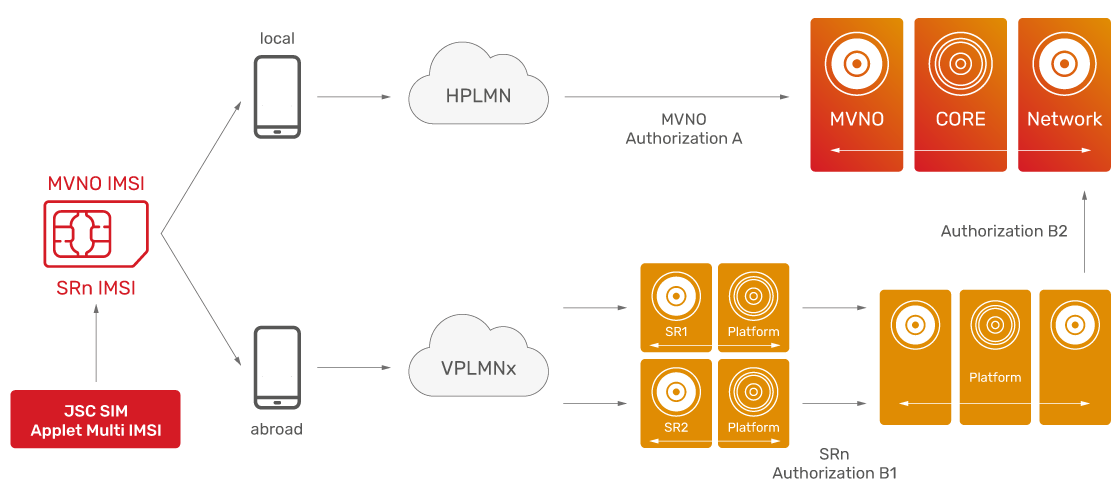 It allows MVNOs to use its own IMSI at home and JSC chooses IMSI_SRn abroad.
"Strong investment in R&D · Automatic selection of IMSI on Applet with own development"