Best practices to manage sunsetting 2G and 3G network infrastructure
From generation to generation of mobile network infrastructure, performance improvements rely on communication service providers (CSPs) utilising their network infrastructures optimally to increase network bandwidth and provide better throughputs and stable connectivity services. It is this process of continual optimisation that ultimately provides all consumers – from individuals to enterprises and public institutions – with telecom solutions that are more efficient and secure and power productivity. For CSPs, this process is also critical for business efficiency. In addition to spectrum refarming allowing for increased bandwidth for newer generation technologies, reducing the number of active cellular networks by shutting down older generations decreases maintenance costs. CSPs can then reinvest these savings to empower efficiency gains and innovation within next-generation networks.
With 4G LTE technology well-established and 5G reaching maturity, it is once again time to undertake this transition process, including sunsetting 2G and 3G networks. Managing the transition strategically is crucial to prevent delays and ensure a smooth takeover of the 4G LTE and 5G NR cellular networks. Based on the latest research from Gartner, 3 Best Practices for CSP CIOs to Shut Down 2G/3G Network Infrastructure, we've created a best-practice guide to help CSP CIOs and other technology leaders manage cellular network infrastructure migration with clarity and confidence.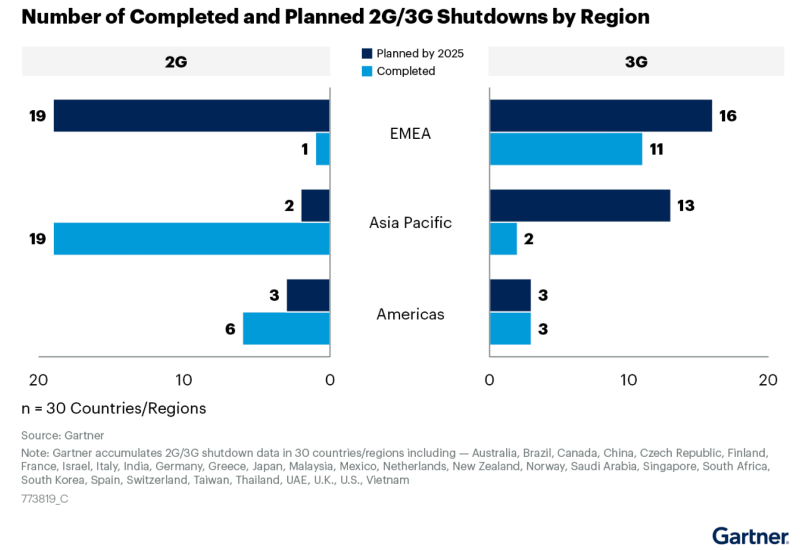 Best practice 1

– Manage network shutdown based on local market conditions
Analyse the costs and benefits of existing networks
When deciding which networks to shut down first, compare how much use each network gets, its likely lifespan, and the maintenance costs associated with its operation. According to Gartner, "CSPs can consider closing other nonmainstream technologies (e.g., CDMA, PDC, PHS, TD-SCDMA, Wi-MAX) earlier due to their smaller ecosystem and shorter life cycle". This is true regardless of the geographic and market context. In contrast, the choice between shutting down 2G GSM and 3G UMTS depends on local conditions. Decision criteria should include networks with less use or subscribers, limited population coverage, higher operating costs and those that rely on old equipment no longer being produced. While markets that adopted newer generations earlier – like the US, Japan, South Korea, and China – usually shut down 2G first, European markets that rely on circuit-switched (CS) technologies tend to shut down 3G first.
Analyse support for specific functions such as voice calling and SMS services
While 2G and 3G technologies are outdated, they nonetheless support vital communication functions through CS voice and SMS services. Therefore, Gartner states that CSPs should "analyse the degree of commercial use and formulate an alternative voice call and SMS service for existing users and inbound roaming users who previously used its circuit-switched (CS) network". This is especially important for emergency calling and will be crucial for regulatorybodies approving the shutdown of 2G/3G networks. If old networks are maintained, they can support CS fallback for voice calling and SMS. If only 4G and 5G networks are retained, voice  over LTE (VoLTE) and SMS over IP alternatives must be fully functional and reliable, including any necessary integration or customisation for emergency calls.
Work with all stakeholders to develop a migration strategy and manage the transition
Building on the above findings, CSP CIOs and other technology leaders should develop a migration strategy that accommodates the interests of various stakeholders. CSPs operate within a large ecosystem of MNOs and MVNOs, individual consumers, enterprises and public institutions. Therefore, according to Gartner, CSPs should consider "not only technical factors but also business factors (e.g., existing services, enterprise solutions, revenue) through cross- functional communication and coordination". Announcing a shutdown without prior consultation is likely to be counterproductive, leading to pushback from consumers and regulators and implementation delays. This is especially important considering supply chain disruptions caused by the COVID pandemic, which has compounded with global computer chip shortages, resulting in substantial delays for organisations needing to upgrade to 4G/5G compatible devices. A significant proportion of Internet of Things (IoT) devices, particularly in industrial and agricultural contexts, still utilise CS networks – as do many medical devices that provide real-time patient data to first responders. Regular communication and close cooperation between CSPs and these consumers to resolve difficulties in upgrading devices will help to facilitate quick and efficient network migration.
Best practice 2

– Proactively work with regulators to secure favourable legislation
Each country has its own bodies to control and monitor wireless networks. Alongside consumer- side stakeholder collaboration, Gartner advises that CSP should "submit their network shutdown strategy (e.g., schedule) to regulators in advance and derive rules and regulations that are advantageous to them by negotiating the details". It is also important to understand the established regulatory requirements and precedents for shutting down 2G/3G network infrastructure when devising a shutdown framework. This will help to manage expectations across all interested parties and prevent delays that hamper business forecasting.
There are three primary regulatory approaches to facilitate network migration: apply to use 2G/3G frequencies for 4G/5G networks; lobby for new frequency allocations and auctions to be reserved for 5G (and future generations); or apply for a technology-neutral framework for radio spectrum use. The best approach will depend on the local market context and regulatory environment.
Best practice 3

– Create a phased strategy for network modernisation
Given that CSPs compete to provide the best experience for consumers via data transfer rates, latency and network reliability and security, there are clear early-mover advantages for CSPs that can most rapidly and effectively modernise their networks. According to Gartner, "CSPCIOs and technology leaders should formulate their own long-term (three-year, five-year span and more) radio spectrum strategy and modernize their cellular network focusing on only 4G and 5G". This involves mapping out a phased transition towards 4G and 5G-only networks, including a framework for shutting down 2G/3G infrastructure and a plan to reallocate radio frequencies and financial savings to network modernisation.
Adopt the latest technology to improve 4G/5G network coverage and capacity
The first and perhaps most straightforward but initially capital-intensive strategy is to install technologies that improve performance and cost efficiencies. These fall into three categories:
Technologies that support multiple radio frequency networks, like dynamic spectrum sharing, multiband remote units and single radio access network (RAN), enable individual networks to support multiple mobile communication standards, providing benefits such as reduced footprint and cost, increased coverage and more consistent performance.
Cutting-edge technologies like massive MIMO, vEPC and open RAN can enable a wide range of benefits, including improved coverage at the cell edge, better energy efficiency (therefore supporting sustainability targets) and increasingly flexible deployment options that support innovation.
Multi-operator support, such as through active/passive sharing, can reduce capital expenditure – helping to bring down prices for consumers across the board – and can also substantially improve network coverage.
Target enterprise clients and other large organisations with private and hybrid 5G offerings
On the other end of the strategy spectrum, CSPs can carve out a niche. According to Gartner, this involves "[shifting] from a consumer focus to an enterprise business focus by adopting public 5G, private 5G and hybrid 5G to satisfy various demands from enterprises". Private 5G allows for high levels of organisational control and is beneficial for orchestrating massive numbers of IoT devices in a concentrated area, such as in airports or large industrial settings; to provide connectivity in remote areas; or in contexts where security and privacy are paramount. Hybrid 5G combines public and private networks for different use cases, following a similar logic to hybrid cloud deployment. Offering these services to enterprises or public institutions facilitates CSPs investing in innovative technologies by guaranteeing returns on their investments.
Create an all-IP cellular network
A third strategy, says Gartner, is to focus on a specific objective: "Pursue an all-IP cellular network by adopting IP-based voice services only (e.g., VoLTE and VoNR)". This has a range of potential benefits, including higher capacity, lower latency, reduced lifecycle costs and increased revenue via faster service rollout. Achieving an all-IP network with advanced voice and messaging services will involve a range of technological and solution-focused innovations (e.g., customisation for emergency calling) but has the benefit of consolidating action around a single aim, which can help to streamline collaboration within CSPs.
Accelerate network modernisation with JSC Ingenium
Founded in 1996, JSC Ingenium has built its reputation through its vast portfolio of telecom network solutions for 3G and 4G Core Network Infrastructure, Service Enablers and innovative 5G Network offerings. Leveraging this experience to support the evolution of next-generation networks, JSC Ingenium has the flexibility, creativity, and vision to enable communication service providers to transform their mobile networks to support the rapid introduction of all-IP converged voice and messaging services based on IMS. The company provides operators with a tailored solution that enables them to offer future-proof services (VoLTE, VoWifi, VoNR, VoBB) designed to coexist and evolve with 5G deployments (SA and NSA). What JSC Ingenium offers is one single solution that combines truly cloud-native properties and backward compatibility. Therefore, it can support from legacy technologies to 5G SA, maximizing the return on investment and reducing the TCO of the network.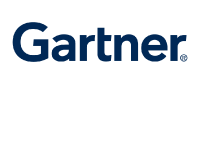 3 Best Practices for CSP CIOs to Shut Down 2G/3G Network Infrastructure
30 August 2022, Kosei Takiishi
GARTNER is a registered trademark and service mark of Gartner, Inc. and/or its affiliates in the U.S. and internationally and is used herein with permission. All rights reserved.
To access the full Gartner report please provide us with a few of your details