CSPs need to embrace Cloud-Native VoLTE IMS. Here's how
As the world becomes increasingly digital, Communication Service Providers (CSPs) seek new ways to stay relevant, innovate, and gain a competitive advantage. Despite the ever-increasing availability of high-speed internet and a rising number of Over-The-Top services and communication channels, CSPs face declining usage and revenue from traditional voice services. To counter this trend, they are under immense pressure to deliver more reliable voice services of better quality. Voice over Long Term Evolution (VoLTE) services have emerged as a promising solution.
Not long ago, VoLTE device penetration, deployment costs, and the maturity of end-to-end VoLTE solutions were all considered major obstacles to the growth of VoLTE adoption. Today, those obstacles have largely been overcome. This makes it an opportune time to invest in the technology. While voice services do not drive customer acquisition or increase monthly average revenue per unit, they remain an essential network service for CSPs. Simply put, subpar services are likely to drive customers away. It is, therefore, crucial for CSPs to invest in infrastructure to support high-quality voice services.
The importance of quality voice services was highlighted during the COVID-19 pandemic: Connecting with others is essential to successful business collaboration as well as personal well-being. In the modern world, barriers of physical distance have been overcome by communication networks, and we rely on this technology to run globally distributed businesses and maintain long-distance relationships with friends and family. The Cellular Technology Industry Association (CTIA) reported a substantial increase in wireless usage, particularly in voice traffic, due to the pandemic and stay-at-home protocols. For example, the CTIA noted a 24.3% surge in U.S. voice traffic during this period. The trend continued throughout 2020 and 2021.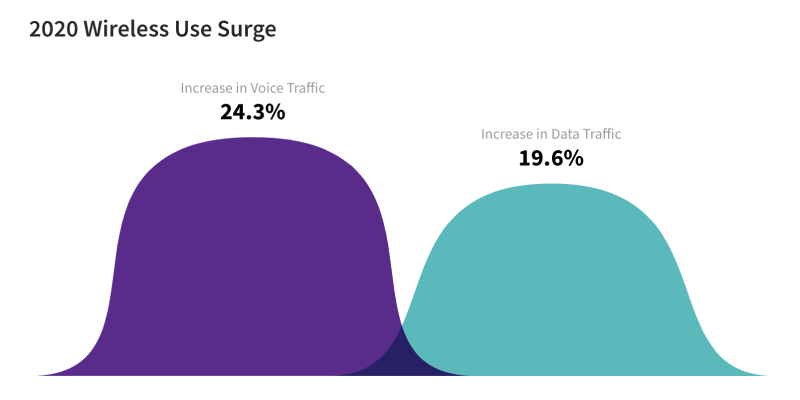 https://www.ctia.org/the-wireless-industry/infographics-library
CTIA also estimates that around 240 million calls are placed to 911 in the United States annually, with a significant percentage of these calls – approximately 80%, or 192 million – originating from wireless devices. Clearly, it is critical that adequate network coverage, reliability, and call quality are guaranteed for this purpose.
In the past, limited smartphone support for VoLTE was a significant impediment to its adoption. Given the numbers cited above, this prompted major concerns about its viability as a replacement for circuit-switched (CS) networks, with reliable emergency calling being a vital issue. However, according to the GSMA Terminal Database, most 4G smartphones now support VoLTE. The applications of VoLTE expand beyond smartphones to include various IoT devices – including wearables, cameras, and smart speakers – with uses spanning consumer goods, public services, security, large infrastructure projects, and industrial contexts.
VoLTE, an accelerator of 5G expansion
Looking to the future, 5G is currently taking over as the next-generation cellular network technology. It offers faster speeds, lower latency, and more bandwidth. To support these significant benefits, new network architecture and technology are required.
With the emergence of 5G, VoLTE, therefore, becomes even more critical. IMS technology, the only standard solution for VoLTE, is essential for voice over 5G (Vo5G) services because there is no circuit-switched fallback (CSFB) of voice from 5G. For this reason, the 5G network rollout will facilitate VoLTE launches over the next five years, alongside contributing to the evolution of Vo5G services. Many 5G devices, including smartphones and IoT devices, already support VoLTE, and trials of Vo5G indicate that VoLTE services will only become more prevalent.
Driving momentum in next-generation networks
Despite these promising signs, only around 30% of operators with LTE have launched commercial VoLTE services, indicating that many are uncertain about how to leverage these technological advances and capabilities. CSPs can drive momentum for VoLTE services by deploying cloud-native IMS. This way, VoLTE IMS can be integrated as a simple, incremental component of any cloud network migration. This approach will allow CSPs to scale their capacity more efficiently and use "pay as you grow" deployment models that would otherwise be unavailable. Deploying a cloud-native IMS will also provide CSPs with greater flexibility, allowing them to deliver new services and capabilities even more quickly and efficiently.
Just as CSPs have been planning 5G core networks using cloud-native architectures, operators should consider deploying cloud-native IMS as part of their overall network strategy. With the cumulative effects of increasing availability of VoLTE-compatible devices, the importance of voice services to customers, and the role of IMS technology in VoLTE and Vo5G services, the benefits of deploying VoLTE have never been more evident. By positioning VoLTE as an integral, incremental component of any cloud migration, CSPs can leverage the benefits of the technology without incurring unnecessary costs or complexities.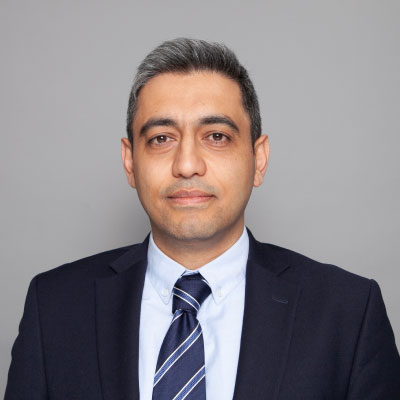 Ali Boushehri
Director of Product Management, Strategy & Transformation
Technical professional with business orientation in IT, telecommunications and digital experience with a solid track record of more than 15 years, holding senior positions in companies such as SmartComm, Shatel Mobile, MTN, Aircom or Kavoshcom Asia.
Do you want to contact the author of this post?