JSC Ingenium presents its latest innovations before a record audience at MWC 2019

JSC Ingenium has participated once again as an exhibitor at the largest mobile technology congress in the world. Among the 2,400 participant companies at the event for excellence in mobility and connectivity, JSC Ingenium was more notably present than in previous years. Moreover, a large number of attendees visited the stand, most of whom were interested in the latest MVNO technology innovations.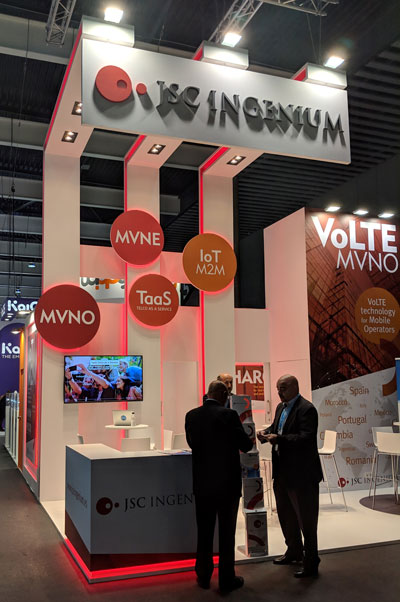 Among the most important innovations shown at the exhibition, there were two of particular interest: VoLTE technology for mobile operators, and an eSIM platform, which will be operative during the third quarter of 2019.
During the event, JSC presented the new functionalities offered by PHAROS, an expert real-time monitoring and analysis tool, and some of the main success stories
currently working on its Taas Technology (Telco as a Service), and its new operative model for MVNO/A/E in the cloud.
At the booth, JSC dedicated a space to celebrate the success of SUMA móvil. SUMA, a subsidiary of Grupo Ingenium, offers a Mobile services Platform for MVNOs on JSC Ingenium's MVNA technology. By the time the exhibition took place, during a phase of international expansion, the company had more than 25 MVNOs deployed and operative in the three countries where it operates: Spain, Colombia and Chile.
In its fourteenth edition, MWC achieved higher visitor numbers than ever before, with 109,000 visitors from more than 200 countries. Among participants, most of whom are directors and influencers of the tech sector, more than 55% work in senior positions, and 7,900 are managing directors. In addition to the latest technological innovations that are building the mobile industry of the future, the main matters discussed were: the arrival of 5G, Artificial Intelligence, and the Internet of Things.
JSC Ingenium is due to participate again in the MVNO World Congress, an event that will take place from 21 st to 24 th May in Amsterdam.