Challenges for mobile operators in their evolution to 5G

JSC Ingenium participates as an exhibitor and speaker at the next edition of Conecta Colombia on 27th and 28th June.
JSC Ingenium ends the first half of the year participating in the big event for Telco operators in Latam. This new edition of Conecta Colombia will focus on Digital Transformation, 4G to 5G Network Transformation and Connectivity. The congress returns to face-to-face sessions and will bring together high-level executives from operators, regulators, analysts, representatives of government entities and other relevant industry players on 27 and 28 June in the city of Bogotá to share their vision and promote the development of communications in Colombia and the region in the face of the arrival of 5G.
Freddy Lara, MNO sales director of JSC Ingenium for the Latam region, will present the paper "The challenge of Telecommunications in the midst of the new industrial revolution". Lara will try to analyse the main challenges that mobile network operators will have to face in their evolution to 5G. The executive will try to shed light on what the cloudification of networks brought by 5G represents for operators, through containers, and on the need to take traditional on-premise infrastructures to this type of cloud architecture in order to optimise network operation much more efficiently and take advantage of all the operational synergies in the face of the exponential growth of new deployments that is expected to take place in the coming years.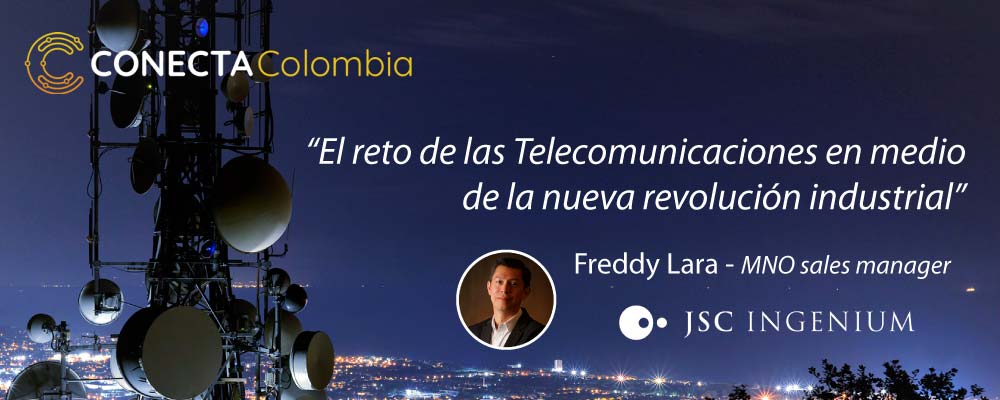 This edition of Conecta Colombia takes place just after the official announcement, on 14 June in Cartagena, by Mauricio Lizcano, ICT minister, that the 5G spectrum auction in Colombia will take place on 20 December. For the ICT Ministry, 5G technology will bring to Colombia not only better connectivity and greater coverage but will also allow the development of new services and technologies that will lead to advances in productivity, better jobs and advances in technology development.
JSC Ingenium is a global 4G/5G Core & BSS vendor for CSPs. Founded in 1996, the company is building the future of telco by delivering entire operation and management solutions to all kinds of Communications Service Providers (MNOs & MVNOs). Its offering includes a wide range of 3G, 4G and 5G Core Network technologies and Service Enablers, combined with business support systems (BSS) and tools for the supervision and operation of Mobile Operators.
JSC Ingenium makes a very strong effort in R&D, to which it allocates more than 45% of its technical resources. Currently, JSC Ingenium is firmly committed to 5G technologies, its philosophy -completely disruptive- and its ability to create a new concept of mobile networks.
Today JSC Ingenium has operational deployments in 15 countries worldwide, from Asia to Latin America, including major European countries, such as Spain, Italy, France and the UK, serving +100 operators worldwide.